Take A Break
Project Management, Inventive Marketing, Financial Management, Organization Building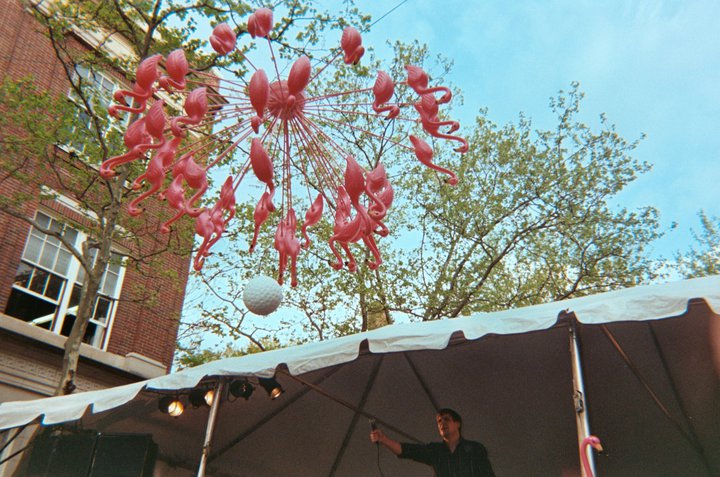 Take A Break is an annual music and arts festival designed from the ground up to reverse the often self-destructive, all-work-and-no-play attitude encouraged at the Rhode Island School of Design. Over the course of 3 years, my team converted apathetic students into engaged ones. We created professional opportunities for artists and designers to refine their craft and provided much needed avenues for learning practical leadership skills. We distributed portions of event proceeds to local and global charities.
I am the founder and former creative director of Take A Break. I built and managed a team of 45 individuals, directed meetings twice a week and mediated disagreements enthusiastically. I gave successful presentations that secured investments from on and off-campus organizations. I directed multifaceted marketing and installation campaigns and efficiently managed $60,000 dollars over 3 years - coming in under budget.
+2,400

participants

28%

annual increase in turnout
"We took on a skeptical market and convinced them that our product promoted a more desirable lifestyle. We gained many advocates and altered the prevailing culture."
The Problem
At RISD, the glorification of 'all work and no play' promotes unhealthy practices that actually hinder creativity and happiness rather than promote it. Students measure their efforts by the hours they spend working and the amount of sleep they lost in the process rather than by the quality of their investigations.
It has led to a culture of non-participation with anemic opportunities for public engagement, relaxation and extra-curricular activities - all of which, promote more better creative insights and practical skills for professional success.
The Solution
1. An event that combines music and art in unique ways to peel students away from their work-driven seclusions at times of high stress (i.e. during finals).
2.An organization that works against the glorification of unhealthy work habits by organizing events, commissioning students for installation and branding work and creating opportunities for developing leadership skills.
Resurrecting the dead - a brief history
When Justin (cofounder) and I came together around Take A Break. We saw a culture that was very good at being unhappy - working too hard and producing lower quality work as a result. We started Take A Break because we felt inspired to create a positive and long lasting impact on the university. We did it because the challenges of building a team and executing our vision was scary enough that it seemed worthwhile. We planned it to be on Nickerson Green and it would be called Nickersonic.
As we begun the organizing. Alumni reached out to us to tell us about Take a Break weekend that started in the 1940s and died in the late 80s. It consisted of a few events (one of which was Co-Lab) and was devoted to collaboration, music & fun. Needless to say we named our event after it. Below are various videos and images we have collected from the good ol' days.